(AUS) Rebels member facing drug and firearm charges
A GOLD Coast bikie is expected to face Southport Magistrates Court on Friday after being charged for drug and firearm offences. The Major and Organised Crime Squad firearms team arrested the 26-year-old member of the Rebels outlaw motorcycle gxxg at Biggera Waters on Thursday, where police allegedly discovered a haul of drugs, including amphetamines and illegal steroids. Police will also claim more drugs and a loaded handgun were found when they investigated another house in the nearby suburb of Oxenford.http://www.sunshinecoastdaily.com.au/news/rebels-member-facing-drug-and-firearm-charges/1881143/
Publ.Date : Fri, 24 May 2013 06:46:39 -0400
(AUS) Police raid Hells Angels OMCG clubhouse - Granville
Specialist detectives from the Gang Squad?s Strike Force Raptor and South West Region Enforcement Squad have raided a clubhouse used by the Hells Angels outlaw motorcycle gxxg (OMCG).About 8.10pm yesterday (Thursday 23 May 2013), police executed a search warrant at a property on Cowper Street, Granville, which is used as a clubhouse by members of the Hells Angels? Parramatta chapter.During a search of the property, officers identified a number of items and structures which were in breach of the property?s development application regulations. Officers also seized Hells Angels paraphernalia, as well as evidence which suggests the illegal sale of alcohol may have been taking place within the property. No occupier was present, however further inquiries into the breaches will be made in the coming days, with arrests expected.After inspecting the premises, police stopped and searched a man outside the property. The 29-year-old Raby man, who police will allege is an associate of the Comanchero OMCG, was found to be in possession of a quantity of drugs.He was taken to Parramatta Police Station where he was charged with possess prohibited drug, before being granted conditional bail to appear in Parramatta Local Court on Wednesday 3 July 2013.During last night?s operation, officers also stopped a 23-year-old Smithfield man, who detectives will allege is a Hells Angels prospect, for driving while unlicensed.Gangs Squad Commander, Detective Superintendent Arthur Katsogiannis, said officers will continue to disrupt illegal activity by outlaw motorcycle gxxgs.?Some OMCG members and associates seem to think they are free to do whatever they like when behind clubhouse doors,? Detective Superintendent Katsogiannis said.?Rest assured, we are committed to arresting any OMCG members who break the law, whether it happens on the street, in a home, in a clubhouse or anywhere else for that matter.? ?The Gangs Squad will continue to monitor the activities of OMCG members to ensure the safety of both our officers and members of the community. If any are found committing illegal activities in any way they will feel the full force of the law.?Strike Force Raptor was established by State Crime Command?s Gangs Squad in 2009. It is a proactive and high-impact operation targeting outlaw motorcycle gxxgs and any associated criminal enterprises. http://www.police.nsw.gov.au/news/latest_releases?sq_content_src=%2BdXJsPWh0dHBzJTNBJTJGJTJGd3d3LmViaXoucG9saWNlLm5zdy5nb3YuYXUlMkZtZWRpYSUyRjMwNDUzLmh0bWwmYWxsPTE%3D
Publ.Date : Fri, 24 May 2013 06:43:38 -0400
(AUS) Labor should cut links with CFMEU and Comancheros
Reports today that members of the Comanchero Bikie Gang have deep links with the CFMEU in Victoria are of very deep concern.The mounting evidence that the CFMEU has links to bikie gangs and underworld figures confirms the need for the Australian Building and Construction Commission.The CFMEU has very strong industrial and political influence and a very cosy relationship with Prime Minister Julia Gillard and Workplace Relations Minister Bill Shorten so much so that CFMEU Secretary John Setka recently addressed the Victorian Labor Party Conference.This is the same John Setka who underworld crime figure Mick Gatto recently described as being a ?close mate?.This should be of real concern to Bill Shorten as it?s happening in his own backyard in Victoria.One day we have the Sergeant of Arms from the Comanchero?s marching through the streets of Melbourne protesting against Grocon and the next he?s filmed allegedly intimidating the Federal Vice President of the Master Builders Association demanding money.Should these reports be substantiated, both Labor and the Greens should rule out receiving any further donations from the CFMEU on the basis of the links to organisations and individuals involved in criminal activities.We know that the CFMEU is planning to bankroll the Greens in the Senate during the upcoming election campaign in an attempt to stop the Coalition from re-establishing the Australian Building and Construction Commission.The ABCC, which was dismantled by Bill Shorten and Julia Gillard at the behest of the union bosses at the CFMEU, was the tough cop on the beat tackling the very thuggery and intimidation we are seeing in the construction industry.Only a Coalition Government would stand up to illegality, thuggery and intimidation in the building and construction sector by ensuring a tough cop on the beat.http://www.international.to/index.php?option=com_content&view=article&id=8389:labor-should-cut-links-with-cfmeu-and-comancheros&catid=97:breaking-news&Itemid=74
Publ.Date : Thu, 23 May 2013 12:24:36 -0400
(AUS) One woman tries to tackle bikies in her area
WHILE Taskforce Eagle investigators are in the Goulburn Valley checking which locals ripped their "bugs" out of a police station, they might like a chat with an angry local resident.In November she complained about the bikie next door - that is, about chemical fumes spewing from huge fans he'd installed in a big shed. Not just fumes but residue that settles on washing and windows and infiltrates houses.Everyone in the area smelt the stuff, too, but the feisty pensioner is the only one to complain. She thinks other neighbours are nervous of the outlaw bikie, perhaps because of what they suspect he might be making in the shed. The impression he runs a backyard business was reinforced by a stream of "visitors" who drove off minutes after arriving.Local police sent the resident to the council, but council staff insisted there were no known hazardous chemicals in her area. Nothing to see here, madam; please desist. But she didn't.In February, she went to police in another town. She was brushed off except by one sergeant who took an interest because he'd seen the unusual traffic near her home. But, when she returned with extra information about vehicles visiting the bikie, he apologised."He told me 'Sorry, I can't help you any more - they've shifted me to another area'," the pensioner says.She wrote to an assistant commissioner in Melbourne. The AC is too busy to handle every complaint personally. He passed it to a trusted officer, who called the letter-writer to say he'd sent her confidential message back to a senior officer at a police station in her district.Give the local officer seven days and then call him, he told her. She did. She called the local officer on March 1, a Friday. She told him the story, stressing the harmful effects the fumes have on her and others. Then she asked if she should come to the station to be interviewed and produce the information she had recorded. He fobbed her off, she claims.But at last there was some action.At 8.30 next morning eight men driving an array of vehicles - utes, a small truck and motorcycles - arrived at the bikie's house. A utility was reversed into the drive and the gang loaded about 40 cartons on it. She noted its registration number, among some others.The ute was driven away by a man who neighbours thought looked like a detective who had once come to a local house for unrelated reasons. The resident believed that another man who helped load the ute was also a police officer.She was happy with that, but not for long. The stream of daytime visitors dropped but more came at night, many on motorcycles. And the fumes still hung over the neighbourhood.She recorded number plates and noticed sometimes a vehicle would reappear with apparently slightly different plates, as if doctored as a crude ruse.One vehicle with plates beginning with three particular letters returned weeks later with just the middle letter changed, she says. The three-digit number after the letters was identical. She recorded this and other details in case investigators might find them useful.But the police seemed uninterested, she says.Two weeks later, on Thursday, March 14, she went to a local police station and told a sergeant fumes were still coming from the bikie's reeking shed. That weekend a Commodore she believes is an unmarked police car turned up at the bikie's address.NEXT day, several people turned up and made a scene. They used obscene language and spoke threateningly about anyone who had dobbed them in. They seemed angry and irrational and drove dangerously fast as they left. The pensioner took down the numbers of two of the hostile strangers' vehicles.She says the mysterious chemical fumes - the ones the council and police say don't exist - have affected her health. So has the stress of the situation. Her neighbours are also affected but unwilling to talk about it.One neighbour told her words to the effect, "If you don't shut up you'll be run out of the (street)".She recently went to a Justice of the Peace who advised her to speak to a particular police officer at Echuca, which is some distance from where she lives. The officer told her he would try to take action without involving her local police.After the Herald Sun revealed last week that Taskforce Eagle was investigating allegations of corruption between police and an outlaw motorcycle gang, she contacted this newspaper.She has also mailed a sample of the residue she believes comes from the bikie's shed. It will be handed to the police "clandestine laboratory" drug specialists for analysis.Whether the authorities reveal the results will probably depend on what the experts find, as they quite properly would not risk jeopardising any further inquiry or prosecution. If there is one.http://www.heraldsun.com.au/news/opinion/one-woman-tries-to-tackle-bikies-in-her-area/story-fni0ffyu-1226649439478
Publ.Date : Thu, 23 May 2013 12:20:59 -0400
(NZ) \'Puff\' snuffs out new Rebels drugs gxxg
A newly-formed Taranaki Rebels drug-dealing gxxg has crashed and burned following an undercover police bust codenamed Operation Puff. The failure of the new gxxg was revealed in a police court summary after one of the members, among 17 men and women arrested in September 2011, pleaded guilty in the High Court at New Plymouth this week to drug dealing. Jade Rodney James, 23, unemployed, pleaded guilty to four charges. He was convicted of participating in an organised criminal group, conspiring to supply the class A controlled drug methamphetamine, conspiring to supply ecstasy and conspiring to supply cannabis. He was remanded to June 27 on electronic bail for sentence. Others alleged to be further up the hierarchy of the Taranaki gxxg have a trial set down in the High Court in New Plymouth early next month. Further associates have already been dealt with through the courts. A lengthy electronic surveillance operation, which was carried out over several months in 2011, targeted the newly-formed Taranaki chapter of the Rebels gxxg and their associates. The operation was set up following police intelligence that the Australian-based gxxg, involved in the manufacture and distribution of class A drug methamphetamine (P), was spreading throughout New Zealand. Days after the arrests, the Taranaki Rebels chapter was to hold a national Rebels New Zealand meeting at their clubrooms at the Barrett St hospital complex. Every Rebels member in New Zealand was to attend, the summary said. However, the Taranaki arrests, most of which occurred after police involved in the operation swooped on September 1, meant the Taranaki Rebels were unable to perform their role as hosts as they were behind bars. "Police did, however, detect 14 patched Rebels from the Lower North Is[land] and Canterbury entering Taranaki on 2 September 2011," the summary said. "They left the province early on 3 September 2011." In Australia, the Rebels is the largest outlaw motorcycle gxxg, with 72 chapters. Police now believe the Rebels have chapters across New Zealand and have the potential to become this country's biggest gxxg. Because methamphetamine was "a particularly addictive and destructive drug", and was expensive to purchase, it was routinely manufactured, supplied and distributed by gxxgs, the summary said. Holding the rank of soldier and under the control of the Taranaki sergeant at arms, James had the job of fetching and carrying for gxxg members, including selling drugs, the summary said. The surveillance operation discovered large amounts of meth and class C ecstasy were sought by the accused from associates and contacts. They were then to distribute the drugs to purchasers throughout the New Plymouth area. James was identified through recorded conversations, text communication and surveillance. http://www.stuff.co.nz/taranaki-daily-news/news/8711281/Puff-snuffs-out-new-Rebels-drugs-gang
Publ.Date : Thu, 23 May 2013 11:53:07 -0400
(USSA) Motorcycle Club Hosts Event to Serve Local Veterans June 15
The Warhorse Brotherhood MC and Low Country Harley-Davidson are partnering to support local veterans by hosting a Veterans Information Expo on Saturday, June 15.?The goal of the event is to connect veterans to programs and services that will benefit them,? said Jennifer Oldal, Community Relations Manager of Low Country Harley-Davidson. ?Instead of having to travel to different agencies on different parts of town, veterans will be able to talk to multiple representatives at one location.?The event will offer veterans access to information about local, state and federal programs, as well as an opportunity to connect with the many non-profit organizations that service veterans.The Warhorse Brotherhood MC, a veterans group, chose to cosponsor this event to follow the military credo. ?We take care of our own,? said Randy Kent, club President. ?We want veterans to know that whatever assistance or benefits they qualify for are neither a gift nor a handout. Veterans earned these benefits when they set aside a portion of their lives to stand in defense of their country.?The event will be held on Saturday, June 15 from 11 am ? 3 pm at Low Country Harley-Davidson (4707 Dorchester Rd). All veterans, current military and family members are invited to attend the free event. Lunch and entertainment will be provided. If your non-profit organization supports veterans, you are invited to be a part of the event. Email olddog@warhorsebrotherhoodmc.com or visit www.lowcountryharley.com for more information.http://www.journalscene.com/article/20130523/SJ01/130529785/1059/SJ01/motorcycle-club-hosts-event-to-serve-local-veterans-june-15
Publ.Date : Thu, 23 May 2013 11:47:09 -0400
(AUS) Links to bikie shooting: man arrested
A man linked to the shooting of Toby Mitchell, which sparked a war between the Hells Angels and Bandidos bikie gangs, has been arrested by police.Chief Commissioner Ken Lay has confirmed that an arrest was made last night and charges were expected to be laid soon."We have made some significant breakthroughs in that investigation overnight," Mr Lay said on radio station ABC 774.Operation Resound was set up to probe an escalating battle between the Hells Angels and Bandidos after Mitchell was shot in an ambush during March outside a bikie clubhouse in Melton. It was the second attempt on his life, after he was shot in Brunswick in 2011.Fairfax Media revealed that police feared the gangs were on the brink of "all-out war" after the shooting of Mitchell, the Bandidos serjeant-at-arms.Mr Lay said Operation Resound police had issued about 35 warrants and arrested 25 people on a range of offences including drug and firearm charges."This has been working very hard to dampen down tensions between the Bandidos and Hells Angels," he said."What we are starting to understand is the insidious reach of outlaw motorcycle gang."http://www.brimbankweekly.com.au/story/1518847/links-to-bikie-shooting-man-arrested/?cs=12
Publ.Date : Wed, 22 May 2013 12:35:21 -0400
(AUS) Bikies in standover bid on builder
A senior Comanchero and two other members of the outlaw bikie club barged into the family home of one of Australia's leading builders in a suspected standover attempt to force the construction firm owner to pay a disputed debt.Master Builders Association federal vice-president Trevor Evans was at his suburban Melbourne home when the bikie trio, led by Comanchero serjeant-at-arms Norm Meyer, entered his house through an unlocked door and confronted him over money that a subcontractor claims he is owed.Dramatic vision of what police have labelled an extortion attempt was recorded on CCTV cameras and has been obtained by Fairfax Media, prompting the Napthine government to say it was "gravely concerned" about alleged infiltration of the building industry by "criminal elements".The head of Victoria Police's anti-bikie taskforce Echo, Detective Superintendent Peter De Santo, told Fairfax Media that what Mr Evans had endured was one of several examples of bikie gangs and other crime groups being used to collect disputed debts or to deal with industrial disputes in the building industry."This is not the only one, and Echo are being proactive in the building industry around dealing with outlaw motorcycle gangs and the recovery of debts," Supterintendent De Santo said.?Their attendance in a Comanchero shirt is intimidatory and well beyond community expectations. If they appeared at my front door I'd be very concerned, which is why you have to come and speak up to the police," he said.In 2011, Fairfax Media revealed that the Hells Angels had been used by a subcontractor in a stand-over bid on a senior manager from building firm Hansen Yuncken.That case and Mr Evans' story highlight the role of organised crime in the building industry and the difficulty that police and regulatory agencies have in confronting it. In both cases, the victims of the alleged standover tactics were disappointed with aspects of the policing response, having also been told that agencies such as the federal government's building commission were powerless to deal with criminality in the industry.It is understood that the use of bikies in the industry is also increasing in NSW, fuelled by the willingness of some industry figures to hire crime figures and the fact that debt collectors do not need to pass a "fit and proper person" test.Superintendent De Santo said Meyer ? who is the enforcer for the club's Williamstown chapter ? worked in the building industry and was a member of construction union the CFMEU. Fairfax Media has also obtained a photo of the bikie near the front of last month's CFMEU rally on workplace safety."I would have thought there there is a public perception about that photo and I would have thought that public perception is something the CMFEU would probably want to deal with [in respect] of how they portray themselves to the community. Having said that, the majority of bikies are still employed in various industries where their trades are," Superintendent De Santo said.CFMEU Victorian secretary John Setka said he did not know Meyer or that he was connected to a bikie gang until alerted by the media. He said he had not noticed an increased presence of bikie gang members or crime figures in the state's building industry."If there was we'd be concerned because it's likely that our members could be the target of threats," he said, stressing that the CFMEU had banned any bikie gang colours from being worn on building sites.Mr Evans said building company owners and staff should not have to deal with standover tactics and called on the state and federal governments to confront the problem.He said the law should be overhauled to ensure that debt collectors were licensed and of good character.Mr Evans also criticised the way in which police initially dealt with the approach by the Comancheros. While uniformed police were quick to arrive at his house after a triple-zero call was made, Mr Evans had to make multiple calls to his local station in the following days to follow up on the police investigation. While he was waiting for police to respond, Mr Evans paid part of the disputed debt to the subcontractor whom police believe hired the Comancheros."They [the local police] were pretty bloody hopeless. They were telling me they were under-resourced, but that wasn't much help to me. If police had advised me properly, I wouldn't have paid part of the debt," he said.Mr Evans learnt later that local detectives had failed to alert the Echo taskforce, which only found out about the attempted extortion several weeks after it occurred. Mr Evans said he was pleased with Echo's response but that it came too late.Echo has told Mr Evans that his part-payment of the disputed debt meant that it would be difficult to charge the Comancheros or the subcontractor involved in the matter.Superintendent De Santo conceded there was "room for improvement" in how police had initially handled the incident but insisted that Echo was proactively tackling the problem.Mr Evans, who owns a mid-tier construction firm, is now trying to recoup his debt through civil proceedings.In 2011, when a senior Hells Angels member was investigated for demanding Hansen Yuncken pay a disputed debt to a subcontractor, police launched a major investigation. But the victim of that suspected extortion bid later learnt that some of those involved in the debt recovery process had discovered that police were investigating.It is understood that the office of Premier Denis Napthine has been briefed about the Hansen Yuncken case and the incident involving Mr Evans by the state construction industry regulator, Nigel Hadgkiss.Underworld figure Mick Gatto, who runs a debt collection and industrial mediation business and maintains close ties to building companies, union leaders and the Comancheros, was also involved in negotiations tied to the Hansen Yuncken debt recovery.Police suspect that Mr Gatto continues to be paid by certain building companies to help them deal with industrial or commercial disputes. Superintendent De Santo said that Mr Gatto had publicly acknowledged his association with Comanchero leaders and that police were closely monitoring all bikie groups.http://www.standard.net.au/story/1521029/bikies-in-standover-bid-on-builder/?cs=12
Publ.Date : Wed, 22 May 2013 12:33:52 -0400
(USA) Local bikers embrace their military roots
Give $2,500 check to deserving vet.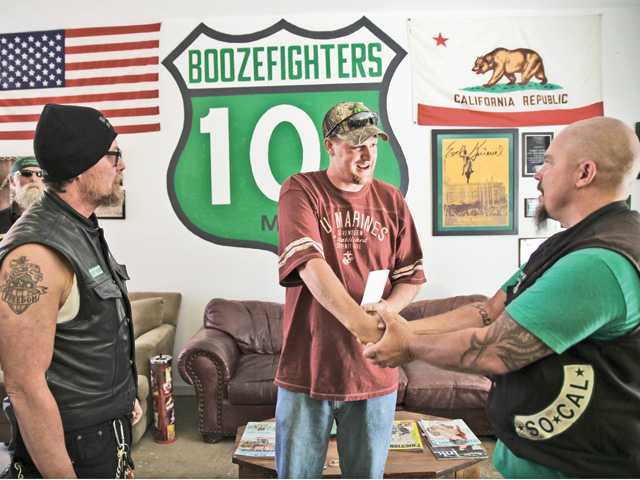 From left, Robert ?Ripper? Patrick, Matt Cook and Curt ?Goat? Webster, as Cook accepts the $2,500 check.The still-rugged beauty of the Santa Clarita Valley provides a natural appeal for motorcyclists. For the past six years, chapter 101 of the legendary Boozefighters Motorcycle Club has enjoyed our rural spirit and open roads by making Canyon Country their home.Established in 1946 by veterans returning from World War II, the Boozefighters MC has enjoyed 67 years of national growth and international expansion ? but their American military heritage has never been forgotten. Chapter 101 combines that love and respect of legacy with a history of active charitable giving.?The biker community in general is well known for having big hearts, but our chapter of the Boozefighters has a very special focus,? says actor Robert Patrick, the charter holder for chapter 101. ?We make it our main goal to raise money and support for disabled veterans.?The chapter has held poker runs, fundraisers and an annual Battle of the Bands to support its cause. ?But we have always given through organizations and foundations,? explained Patrick. ?For our next gift, we wanted to do something more one-on-one. Something more personal.?That next, more personal gift, came in the way of a $2,500 check presented directly to a deserving disabled vet right here in Southern California. With an effort coordinated by chapter 101 member Curt ?Goat? Webster, the perfect candidate was found. Marine Lance Corporal Matt Cook served in Iraq throughout most of 2005, suffering severe after-effects of battle that include diminished eyesight, a loss of taste and the onset of multiple sclerosis.Against a backdrop of the Boozefighters? rustic Canyon Country clubhouse on Sierra Highway, Cook was presented with the check ? a welcome and appreciated helping hand for him and his family.?Our military sacrifices everything to help preserve our freedom,? said Webster, who spent 10 years as a Marine. ?But so often people forget about their sacrifices and their injuries once they return home.?They, of course, can never forget. They have to live with what they went through for the rest of their lives. That is why we will continue our giving and support. We will never forget.?http://www.signalscv.com/section/36/article/96632/
Publ.Date : Wed, 22 May 2013 12:31:04 -0400